I guess you know figured my love for blueberry muffins?  I have seen and tried so many flavors at central market.  They even have ginger and pear and apricot as well.  But somehow, I am always loyal to the berry kind..especially plump blueberries that burst in your mouth.  I like my muffins to have blueberries in every bite!  Unlike the tiny, dried blueberries you find in the prepackage muffins.  These muffins are so simple to make that my daughter whipped them up for her lunch snack.  With summer around the corner, you'll bet I will be using blueberries in many of my desserts.  As soon as I filled the muffin liners with the batter,  I like to top extra blueberries before baking them.  Now that is like a red cherry on top a great dessert.
Jordon Marsh Blueberry muffins
1/2 cup butter (1 stick)
2 cups unsifted flour
1 cup sugar
2 large eggs
1/2 cup milk
2 teaspoons baking powder
1/2 teaspoon salt
2 1/2 cups large fresh blueberries
1 1/2 teaspoons vanilla extract
2 tablespoons sugar (for top of muffins)
Preheat oven to 375°F.
In a large mixing bowl, cream together butter and sugar until light and fluffy; add eggs, one at a time, beating after each addition.
In a second bowl, combine all dry ingredients. (You can use an electric mixer to combine the dry ingredients thoroughly at this point so that you won't need to overmix once the wet and dry ingredients are combined.
Gradually add the dry ingredients to the creamed butter and sugar mixture along with the milk and vanilla.
Optionally, mash 1/2 cup of the blueberries, and stir in by hand (this will turn batter a light shade of blue and add a touch of blueberry flavor, but this step may be skipped, if you wish). Add the remaining whole berries and stir in gently by hand.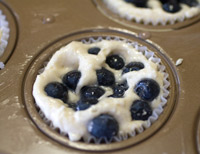 Spray a 12 muffin baking pan with Baker's Joy (or other non-stick spray). Fill greased muffin cups.
Sprinkle sugar on top of unbaked muffins (we like to use Turbinado sugar for sprinkling the tops).
Bake at 375°F for 25-30 minutes. Cool in pan. Run a knife around the edge of each muffin after several minutes to free it from the pan and cool on wire racks. Muffins may be brushed with melted butter and sprinkled with sugar, if desired.
At our test kitchen, we sometimes sprinkle blueberry muffin tops with cinnamon sugar or ground hazelnuts or spread with lemon or vanilla icing and top with thinly sliced almonds.
Tip: If you have trouble with blueberries settling to the bottom try tossing them in flour before adding to the batter. It may just be that your batter is too thin. Another trick is to fill muffin cups 1/4 full with batter which hasn't had blueberries added to it yet; then stir the blueberries in and continue to fill the muffin cups. This way you won't start out with blueberries at the bottom!